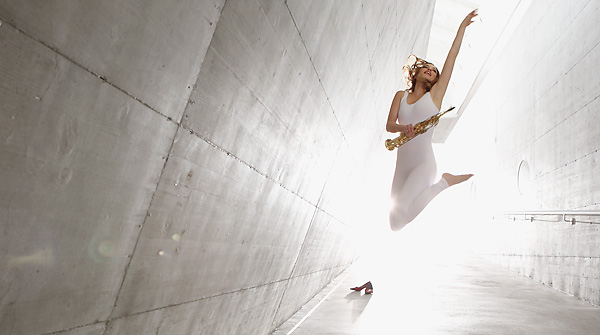 Dear friends and acquaintances
On the weekend I fly to Bulgaria to the "A to JazZ Festival" in Sofia. There I play a solo concert and introduce the "SOFIA – Support Of Female Improvising Artists" program. From now on you can see online the new documentation about the SOFIA workshops of March at the Zurich University of the Arts. Jonas Ruppen Productions was there live with the camera and put together a nice video with interviews. Take a look at it: SOFIA 2018.
Recently I played at the famous festival Jazz Baltica. The concerts and sessions were great. And the encounter with Jan Garbarek remains in my heart forever and ever. You will find our photo below.
Coincidence or not? I spend many hours in my air-raid shelter practicing technique, evergreens and improvisation. One afternoon I transcribe Joshua Redman's music and just this afternoon I receive the request to perform at the Langnau Jazznights in front of Joshua Redman and Billy Hart with my "Henry"-program to perform. The concert will take place on Thursday, July 26. And shortly afterwards I was invited to play with "Henry" at the "Festival da Jazz" in St. Moritz on Sunday, 15 July.
2018 is a special year. Because my band NICOLE JO – with my brother and keyboard player Stefan Johänntgen, bass player Philipp Rehm and drummer Elmar Federkeil – is celebrating its 20th anniversary. For this purpose, our new CD "20" was born. Our next performance will be on July 20th at the French festival "moZ'aïque" in Le Havre.
Recently I was with wonderful musicians in the studio "Villige Recording" in Copenhagen. I can't wait to hear the music, because the recordings for a new album with compositions by well-known female musicians were already a delight. On the CD Cæcilie Norby (vocals/DK) and Rita Marcotulli (piano/IT), Hildegunn Øiseth (trumpet, goat horn/NO), Lisa Wulff (bass/D) and Dorota Piotrowska (drums/D) play. The album will be released in 2019 on the label ACT.
I am currently working on two new compositions for tuba, saxophone and choir. This is a commissioned work, and the world premiere will take place on 7 October in Berne at the "Vignettes on stage" festival.
I hope to see you soon!
I wish you a relaxing summer with lots of good music!
Dear greeting
Nicole Johänntgen