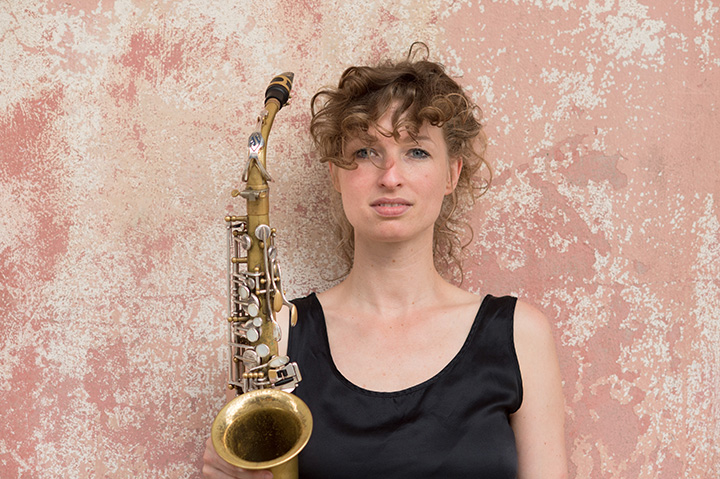 German jazz musician Nicole Johänntgen (*1981) is saxophonist, composer and workshop leader. She has won a total of 9 awards internationally and nationally. Among them the International Jazz Contest Monaco, the JTI Trier Jazz Award, the Seven Virtual Jazz Club Contest, the European Yamaha Saxophone Contest, the Young Soloist Contest in Fribourg. Then she received awards such as Lichtenburg Award 2023, Art Award 2022 Saarland, Sponsorship Award of Saarlandic Radio and Sparkassen Finance Group Saar and the first prize for the best composition of Jazzclub Moods in Switzerland. Nicole Johänntgen has played with stars like Daniel Powter (Bad day), Roger Cicero, Eric Harland, Aaron Parks, Nils Landgren and is on CD release tour with her band Nicole Johänntgen "Labyrinth".
On social media Instagram and TikTok, Nicole is currently one of the most successful saxophonist. She is not only an excellent saxophonist but also an appreciative instructor for young and old. Nicole Johänntgen's work has received significant critical acclaim. For ex. magazine Downbeat (USA), Radio (Japan), Jazz Podium (Germany), Jazzthing (Germany), Jazzwise (UK), Orkesterjournalen (Sweden), Jazz Forum (Poland) and Mediteran (Croatia), among others. Nicole Johänntgen was also invited as the first female musician by the famous Gunung Jazz Festival in Indonesia. Nicole has played at famous festivals such as Swedens Stockholm Jazz Festival, New Zealand's Waiheke Int. Jazzfestial, Silda Jazz in Norway, Iceland's Reykjavik Jazzfestival and many more. Merging different cultures in the form of music is her greatest strength and the greatest gift for all people.

Her focus is live playing, studio recording and mentoring for all ages. She has been leading jazz workshops in the Bernese Oberland since 2022 and teaches youth and adults online as well as on-site. Nicole Johänntgen is committed to young talent and founded the "Kids Jazz Club" in 2015, which gives children an easy introduction to the world of music. She initiated the music business workshop SOFIA (Support Of Female Improvising Artists) for female jazz musicians in 2013. Nicole Johänntgen's musical career began 35 years ago. She began playing classical piano at the age of six and years later found her way to the saxophone and jazz. The jazz saxophonist played in America with the Sisters in Jazz (2003). She was a member of the European Swinging Jazz Orchestra and the IASJ International Association of Jazz of Schools. Nicole Johänntgen has been selected several times as artistic director to compose festival bands in which she herself participated. She has produced 26 albums to date and founded her own label "Selmabird Records". Nicole Johänntgen studied jazz/popular music at the State Academy of Music in Mannheim and has been living with her family in Switzerland since 2005.
---
Nicole is endorsed by D'Addario Woodwinds, Selmer, Sennheiser, Steinberg and JodyJazz.
Read more …