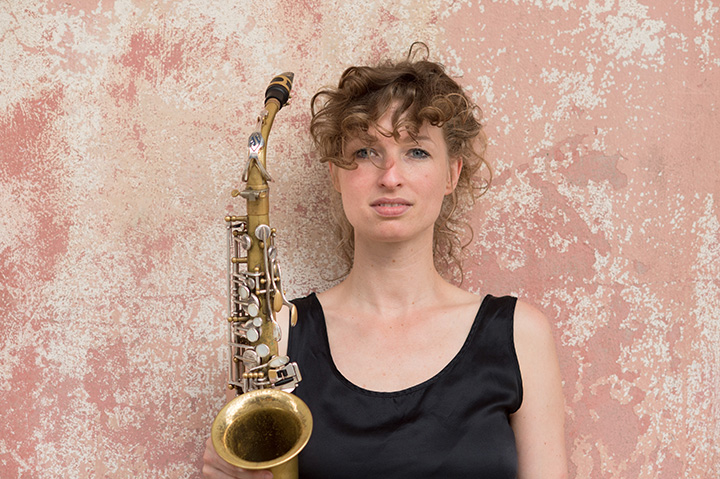 SUMMARY
Alto and Soprano – Saxophonist Nicole Johänntgen has played with stars like Daniel Powter (Bad day), Roger Cicero, Eric Harland, Aaron Parks, Nils Landgren, Piet Klocke and is currently on CD-release tour with Scandinavian singer Cæcilie Norby. She has recorded and released 17 albums to date in the jazz genre with influences from classical music, film music and funk. She tours with her bands throughout Europe and is invited internationally as a soloist. After successfully completing her studies in jazz and popular music at the Mannheim University of Applied Sciences and the Masters Class in Stroudsburg, USA, under the direction of Dave Liebman, she is now deepening her knowledge in the field of musicology at the University of Zurich. She is also currently training in beatbox saxophone technique. Nicole Johänntgen leads the music business workshop SOFIA for female musicians and gives workshops online and on site for children and adults with and without prior musical knowledge. She is currently working on two new albums that will be released in 2021 on her label Selmabird Records. Nicole Johänntgen has won seven international awards and lives with her family in Zuerich.
OVERVIEW
Nicole Johänntgen was born in 1981 in Quierschied, Saarland, Germany. She grows up in Fischbach surrounded by nature. Music plays an important social role in her family circle. The whole family spends a lot of time at the neighbouring Dachsbau Ranch and celebrates music festivals with lots of live country music. The father, master locksmith, plays guitar, trombone and sings. Nicole's brother is a pianist. And the mother likes to dance and sing along. Her first instrument is the piano. In her early years, she was interested in classical piano literature and later switched from piano to saxophone without forgetting classical music. In her father's group, the Joe Fuchs Band, Nicole Johänntgen plays live jazz to dance music for the first time with the saxophone. Piano lessons were her inspiration for the classical music world and with the saxophone new paths in music opened up for her. Both resonate in her musical expression to this day. Her participation in the Saarland Youth Jazz Orchestra ignited her great passion for improvisation and free playing in the 90s. A short time later she founded her first own band called "Nicole Jo." with her brother Stefan Johänntgen, drummer Elmar Federkeil and Christian Konrad on bass. Needs 2B Funky". Jazz leads her to study at the University of Performing Arts and Music in Mannheim. There she dedicates herself intensively to her saxophone and studies jazz/popular music and composition/arrangement. During this time and until today her great idols are Cannonball Adderly and John Coltrane. Only at the age of nineteen she discovered John Coltrane and the sound of the soprano saxophone. During her studies in Mannheim she was part of the international jazz meeting of the jazz schools "IASJ" in Heslinki. In 2003 she was selected as lead saxophonist for the European Swinging Orchestra. In the same year Nicole Johänntgen is invited to play as the only European musician in the American further education program "Sisters in Jazz". From then on she is invited as a soloist for tours in France by the Remi Panossian Trio and in the Netherlands by the Rembrandt Frerichs Trio. In 2005 Nicole Johänntgen moved to Switzerland and worked as a freelance musician. For her there is not one musical style. There are only musical colours, which she uses. The saxophonist sets silent films to music in Switzerland for the silent film institute "IOIC" and is part of the China tour. She is involved in the JazzBaragge association and is head of the press department there. JazzBaragge organizes the Zurich Jazz Jam Session every Wednesday. In 2016 Nicole Johänntgen receives the studio scholarship of the city of Zurich Culture and moves to New York. A very important and instructive time for Nicole Johänntgen. She takes saxophone lessons with the American saxophonist Sam Newsome, who is known for his expressive soprano saxophone playing and his special sounds. She deepens her knowledge of odd time signatures with the Indian tabla player Samir Chatterjee. She takes part in a percussion workshop for African rhythms in Brooklyn. As an extension to her profession Nicole Johänntgen completes the first level of "Martial Arts" at the "CHKA Schule" and a clown workshop with Daniel Passer in Manhatten. These activities have an impact on her future work in Europe. With her return to Switzerland she plays engagements with the magician Jamil and the renowned protest guitarist and cabaret artist Piet Klocke. From this time on she mixes music with other styles such as art, literature and magic. Nicole Johänntgen is committed to female musicians from the jazz and improvisation scene. Every two years she organizes the music business workshop SOFIA Support Of Female Improvising Artists in Zurich. This workshop is about learning self-management and networking among female musicians. Her goal is to get more female jazz musicians on stage. Nicole Johänntgen is booked as a lecturer for music and business workshops in Switzerland and abroad. She plays concerts worldwide and has received seven international jazz awards. Nicole Johänntgen now lives with her family in Zuerich.
MUSIC
Nicole Johänntgen is a versatile musician. This is a result of her broad musical education on piano and saxophone. She is always open for new ways in music and is inspired by walks, birdsong and social activities. In close cooperation with her brother Stefan Johänntgen, keyboarder of her band, she learns the craft of saxophone recording and delivers saxophone tracks for DJs and musicians internationally. She produces her own CDs and founded her own label "Selmabird Records" three years ago.
Nicole Jo
She has been playing together with her first band "Nicole Jo. needs 2B funky" since 1998. The sound has changed over the years. From initial funk beats to groove jazz with film music character. Her brother Stefan Johänntgen handles the keyboards and the sounds. Together with his sister Nicole he sets the "space mood", accompanied by Philipp Rehm's crisp bass riffs and Elmar Federkeil's drumbeats. The band name will become Nicole Jo in 2011.
Soloist
Nicole Johänntgen is invited worldwide as a soloist. Concert tours take her to Indonesia, China, Malaysia, New Zealand, Netherlands, Canada, Sweden, Norway, Belgium, France, Austria, Germany, Switzerland and USA.
New York
During her time in America in 2016 she will attend jam sessions and record her first CD in Brooklyn with musicians she meets during her time in New York. The album is called Robin and has not been released until now. The recording deals with rhythms. The line-up with electric bass, voice, drums, saxophone and lots of percussion does not contain a harmony instrument.
New Orleans
Her trip to America also takes her to New Orleans. A momentous time. Nicole is immediately inspired by the local music scene and lets herself be inspired by the rhythms and energy. She realizes her second recording session in New Orleans with Paul Thibodeaux drums, Steven Glenn Sousaphon and Jon Ramm Trombone. Only through friends Nicole found her musicians. All of them met for the first time on the studio stage in New Orleans and recorded the joint album Henry within three hours. This recording gave Nicole many new opportunities to perform in Europe. The sound is minimalistic, acoustic and driven by New Orleans charm. It rumbles and blows from all corners. Not only that. Henry also reflects natural disasters like Hurricane Katrina. Henry is inspired by Nicole's father who plays the trombone. The albums Henry and Henry II have already been released and in 2021 the third Henry recording will be released in vinyl and CD format. Henry Bier is also released with the music.
Peter Finc & Nicole Johänntgen
Swiss guitarist and singer Peter Finc is known for his percussive and sensitive playing and singing. Both met a few years ago in a small bar in Zurich. She joins in as a guest soloist and the music of both of them convinces with its concentrated charge of energy. This is followed by several tours through Austria, Switzerland and Germany.
Solo
In 2019 Nicole Johänntgen will get to know her saxophone from a completely new side. It is about the confrontation of space and sound. She records her first solo album in 2019 in Zurich's Andreaskirche. The building is a monolith and has a reverb of five seconds. The church's reverberation changes the way the music is played and the flow of the music. Meditative and intense.
Quartet
Nicole Johänntgen will always float between the worlds and this is the name of one of her new compositions, which she will record in Winterthur in December 2019 with the support of Swiss radio SRF 2. The sound of the Swiss band wanders between Oxident and Orient with the Egyptian oud player Nehad El Sayed, the Austrian bassist Philipp Moll and the Zurich percussionist Andi Pupato. The result is an album with lots of temperament and depth. The CD will be released in 2021.
Awards
2017 Composition competition for the 25th anniversary of the Jazzclub Moods (Zurich)
2016 1st annual international online 7 Virtual Jazz Club contest
2015 Scholarship New York of the city of Zurich
2015 JTI Trier Jazz Award
2011 Concours International de Solistes de Jazz, Monaco
2006 Concours de jeunes soliste de jazz, Fribourg
2003 European Yamaha Sax Contest, Berlin
Discography
2019: Solo
2019: Cæcilie Norbys: Sisters in Jazz
2019: Jack de Salvo & Nicole Johänntgen: Lumens
2018 Henry II
2018 Nicole Jo: 20
2016 Henry
2016 Sisters in Jazz
2016 Peter Finc & Nicole Johänntgen: Live
2015 Nicole Johänntgen: Moncaup
2014 Nicole Jo: Colours
2011 Nicole Jo: Go On
2009 Rembrandt Frerichs: Ordem E Progesso
2007 Nicole Jo. needs 2B funky: 4ever
2004 Nicole Jo. needs 2B funky: Jam
2002 International Association of Schools of Jazz: Compilation
2001 Nicole Jo. needs 2B funky: Facts
1999 Nicole Jo. needs 2B funky: Fujo